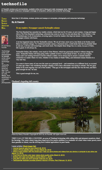 HOME
TOPICS
RECENT
SEARCH
ABOUT ME
MAIL
A few biographical nuggets about the author of the Technofile site.
about me

I'm a retired columnist for The Post-Standard newspaper in Syracuse, New York, USA and have written about computers and consumer technology since 1983.
For 17 years, I wrote The Common-Sense Audiophile as a staff member of Fanfare magazine. My work has also appeared in Esquire and many online publications. I've been systems editor at the The Post-Standard, and have programmed software used at the newspapers and other sites. I've been a commentator and host on the weekly TV show, Point 'n' Click. And I was cohost, with Mac expert Gene Wolf and TV producer Mark Yafchak, of Random Access, the best radio call-in show in the country on computers. The show went off the air after a seven-year, eight-year or nine-year run (Gene never could remember this right), but audio archives of the show carry on the zany tradition. They're hard to find now, but I'll find a way to keep them available.
I've been a newspaper reporter, writer and editor since 1963. During the Vietnam War, I was Saigon Bureau Chief for Stars and Stripes, the daily newspaper published for American military personnel and civilian employees overseas. I was awarded the rare Joint Services Commendation Medal in 1967. In Vietnam, I was wounded twice -- during a mistaken American attack on U.S. troops and during a misdirected American bomber raid against an outpost of 12 GIs on a hilltop. If that sounds to you like Mash, you'd be only half right; it was nowhere near as funny.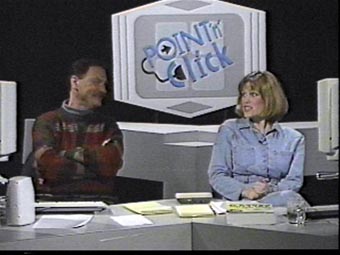 TV time: The folks at Time Warner Cable in Syracuse produced a show on computers and software called Point 'n' Click, and I'm glad I was able to be part of the production, from the inaugural show until the end of the 2000-2001 season. Co-host Nancy Roberts seems to be studying my computer screen while I try to figure out hers on a show in February 1997. Chuck Swanson, another co-host, added an exceptional grasp of complex software configurations, too, and the show has had other stalwarts in the past -- Nancy Fasoldt (yes, she's my talented wife) for PC game reviews and tips on gaming, and Gene Wolf for Mac coverage. The show won the cable industry's highest national award in 1998 as the best locally produced series of its kind in the country. The awards are the cable industry's equivalent of the Emmys. Time-Warner took the show off the air in a cost-cutting move, and we all miss it.